Condition - BRAND NEW, SEALED
SPECIAL ORDER ITEM
Please allow 3-5 days for delivery
Regular price
Sale price
£1,975.00
Unit price
per
Save
Awaiting Stock
Please contact us for availability
Share
View full details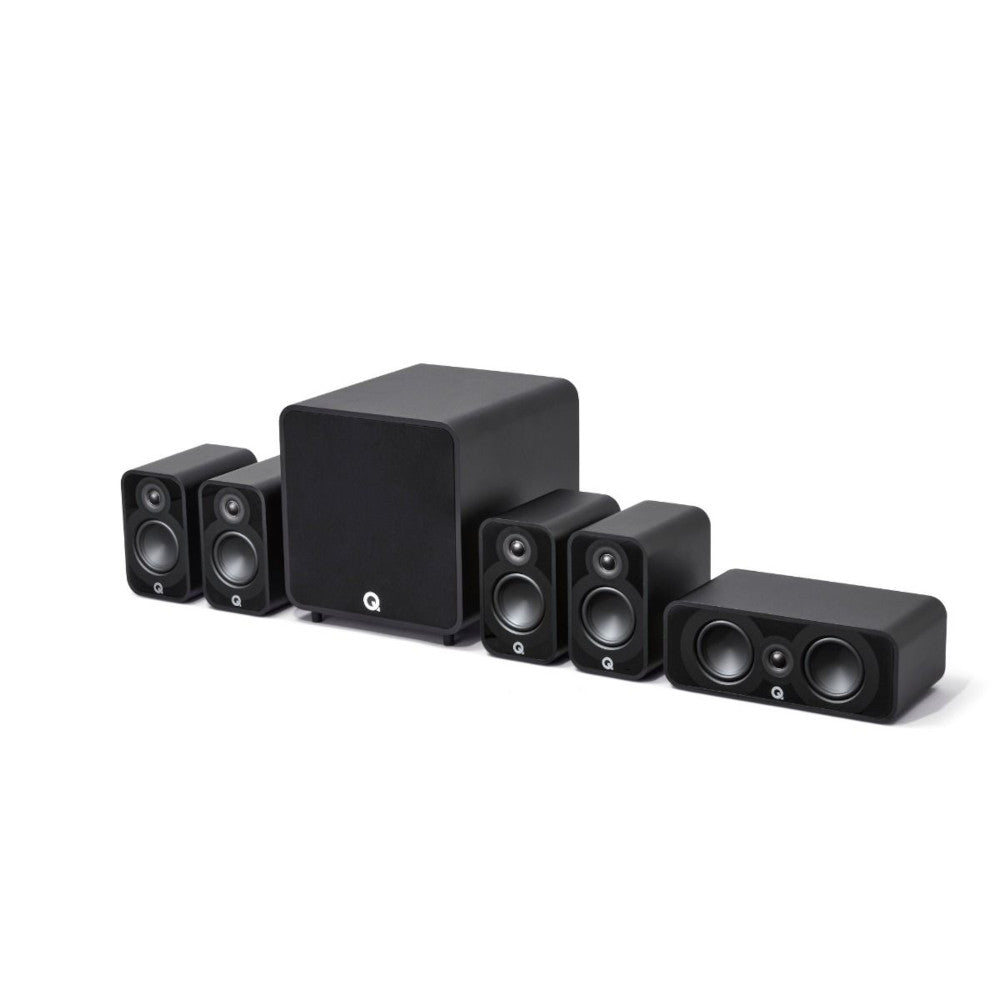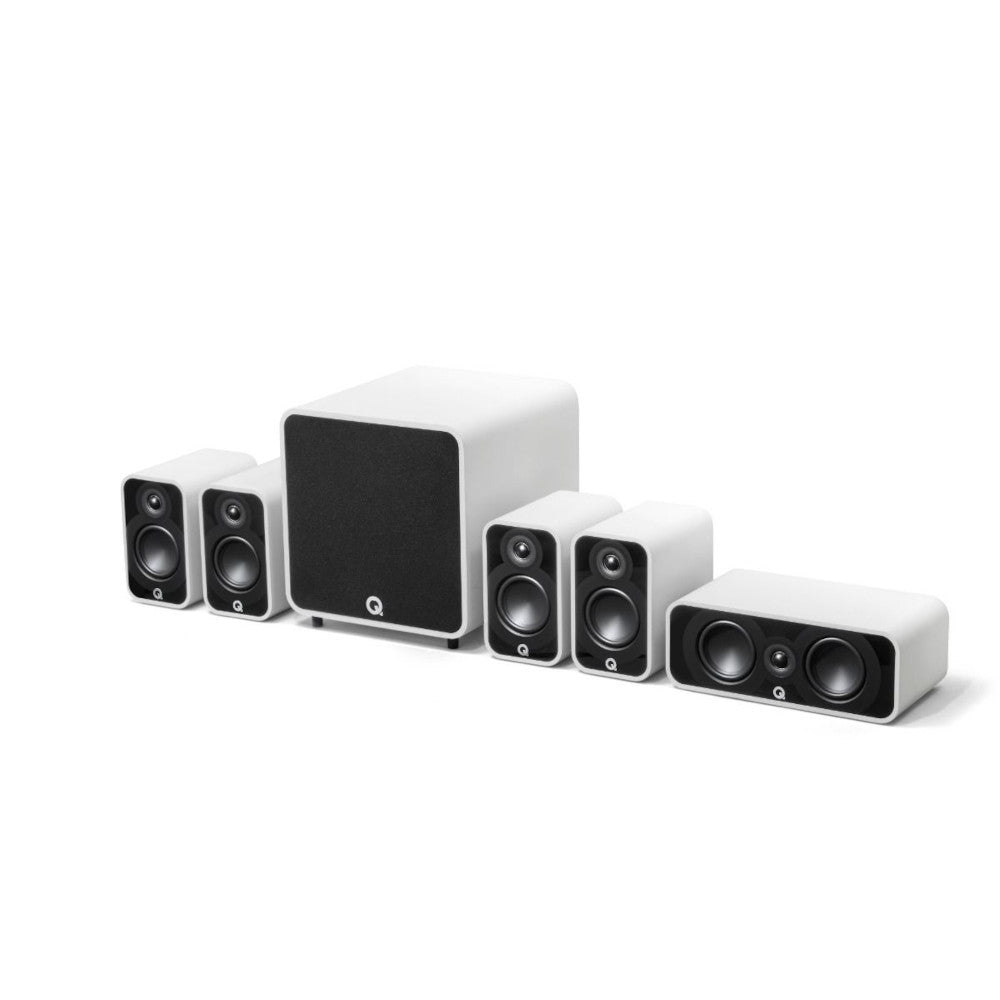 Specifications
Specifications

5010 Bookshelf Speakers

- Bass unit 1 x 110 mm (4.5 in)
- Treble unit1 x 25 mm (1.0 in)
- Frequency response(-6dB) 56Hz - 30 kHz
- Nominal impedance 6 Ω
- Minimum impedance 3.3 Ω
- Sensitivity (2.83V @ 1kHz)86.3 dB/w/m
- Recommended amplifier power 15-90 W
- Crossover frequency 2.5 kHz
- Effective volume 5.0 L
- Dimensions (per loudspeaker / HxWxD)264 x 160 x 263 mm (10.4 x 6.3 x 10.4 in)
- Weight (per loudspeaker) 5.6 kg (12.3 lbs)

5090 Centre Speaker

- Bass unit2 x 110 mm (4.5 in)
- Treble unit1 x 25 mm (1.0 in)
- Frequency response(-6dB)57 Hz - 30 kHz
- Nominal impedance 6 Ω
- Minimum impedance3.2 Ω
- Sensitivity (2.83V @ 1kHz)90.5 dB/w/m
- Recommended amplifier power25-150 W
- Crossover frequency2.1 kHz
- Effective volume7.8 L
- Dimensions (per loudspeaker / HxWxD)164 x 430 x 243 mm (6.5 x 16.9 x 9.6 in)
- Weight (per loudspeaker)8.5 kg (18.7 lbs)

B12 Subwoofer

- Drive Unit: 305mm (12in) high-excursion and stiffness paper, straight-sided cone.
- Peak Amplifier Power: 440 W
- Continuous Amplifier Power: 220 W
- Power type: Class D
- Frequency range: 28 Hz - 300 Hz
- Crossover frequency range: 40Hz – 250Hz
- Input impedance: 13 kΩ
- Input sensitivity: 150 mV
- Enclosure type: Infinite baffle
- Enclosure material: MDF
- Dimensions (H / W / D): 400 x 400 x 446 mm (15.7 x 15.7 x 17.6 in)
- Weight: 47.40 lbs / (21.5 kg)
Box Contents

4 x 5010 bookshelf speakers with grilles
1 x 5090 centre speaker with grilles
1 x B12 speaker subwoofer
Create an immersive, engrossing home cinema surround sound system without sacrificing more space. The 5010 5.1 set-up has audio scale and punch beyond its size and is ideal for delivering enveloping sound in slightly smaller cinema rooms, while looking contemporary and discreet as it does so.
Mid/bass driver design
At the heart of the ground-up mid/bass driver design is the C3 Continuous Curved Cone™. The cone's geometry requires good motor strength for optimal performance. Substantial magnets are coupled to large voice coils to increase motor strength - the result is a 50% increase in power handling and control over a comparable driver with 25.4 mm voice coil. The result is an improvement in the dynamic range of the speaker, especially in the bass region.
High-frequency driver design
Based on the tweeter design principle found in the newest Concept series, the high frequency driver unit is hermetically sealed and mechanically isolated (floating) from the baffle to prevent internal pressure modulations from within the cabinet and adjacent mid/bass driver. The inner chamber is also carefully vented for lower distortion, with a lower crossover point for seamless integration through the crossover region.
C3 Continuous Curved Cone™
A genuine advancement in elements of mid/bass driver design, the C3 Continuous Curved Cone™ profile is the result of extensive research and expert engineering to combine the bass performance benefits of a traditional straight conic cone with the high/mid-range frequency control of a flared cone.

By creating a single, smooth, continuous curve profile, the advantages are clear. Its excellent dispersion, alongside its well-controlled frequency response and reduced harmonic distortion, enables smoother integration with the tweeter. Deep bass dynamics are also superior, with this and tighter, damped low-end sound allowing more flexibility in in placement of speakers near the wall boundaries of the listening room.